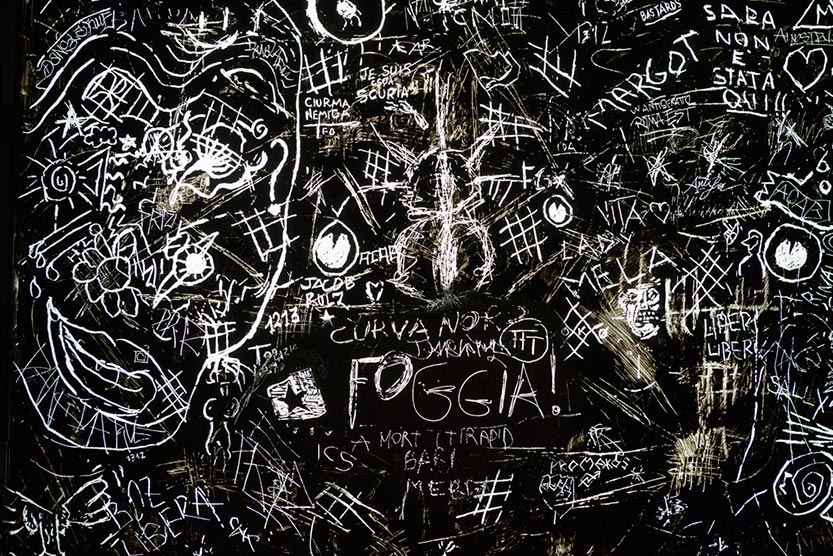 Incontro Intergalattico dei Festival Indipendenti
 
Dodici edizioni senza prendere soldi da nessuno, niente: né pubblico né privato.
Chi partecipa al festival decide come si fa il festival mettendoci opere condivisione e tutta l'arte che conosce.
Il prezzo che si paga per partecipare a Crack! non è moneta corrente, nulla è dovuto, ma è anima e corpo, lussuria e lucidità. Questa fatica che mettiamo in gioco è il nostro unico capitale, indivisibile. Ma numerabile: trecentocinquanta artisti ogni anno per dodici anni senza una banca che possa mettere a registro questo patrimonio. Solo qui, assieme a questa comunità sotterranea, il fumetto non è lavoro morto ma opera viva. Una moneta vivente dicevamo lo scorso anno.
Questo anche è Crackland, un'idea di mondo. Ed è una galassia Crackland. Un universo ancora in espansione che forma nuovi pianeti uno dopo l'altro. In comune alcune cose.
Il festival si autorganizza, non si invita nessuno, ci si autoinvita alla festa.
Chi partecipa condivide e collabora, è solo così che paga il diritto ad esserci, non con moneta corrente.
Lo spazio non è preconfigurato ma prende la forma vivente di coloro che se ne prendono la responsabilità.
Qui nel nostro paese continuano a nascere e crescere altri festival che parlano la stessa lingua: COMBAT COMICS di Livorno (4° ed), INCHIOSTRI RIBELLI di Firenze (3° ed), RATATÀ di Macerata (3° ed), CA.CO. Fest di Bari (3° ed), BORDA! Fest di Lucca (in preparazione la 3° ed), PICS Pics Pescara Intergalactic Comics Show (intermittente dal 2013) e AFA di Milano (che ha debuttato quest'anno). Questi festival italiani assieme agli internazionali F.OFF di Angouleme (FRA, 5° ed), ALTCOM di Malmö (SWE, biennale, 4° ed), TENDERETE Valencia (ESP, semestrale, 12° ed), GUTTER Fest di Barcelona (ESP, 4° ed), VENDETTA di Marseille (3° ed), PRINTNOIZE Festival Berlin (GER), OHOHO di Zagreb (CRO), e alle esperienze svolte dal NOVO DOBA di Belgrade (SRB), ŠKVER Art Project di Mali Lošinj (CRO), e altri ancora che sono patrimonio di una rete europea di fumetto, microeditoria e sperimentazione grafica che anche grazie allo spazio occupato, illegale e autogestito del Forte Prenestino ha trovato momenti di sviluppo e co-progettazione.
L'ultimo giorno di questo Crack! faremo il primo Incontro Intergalattico dei Festival Indipendenti, i lavori del quale daranno il via ad una rete europea di scambio e cooperazione, di rispetto e condivisione. Basata sugli stessi principi che hanno fatto grande il nostro festival. È un evento che porta lontano. Siamo felici che le sue prime mosse le faccia qui, down in Crackland.
///
Twelve editions with no public or private endowment.
Crackers make it up by knack share art, the price you pay can't be in legal tender, no thing is due: just heart and soul, light and lust.
The gasp we stake is the sole whole capital, thus you can number it: three hundreds and fifty artists annually per twelve years with no banks enrolling the amount. Here, in this dark horses' cove, comics are not dead labor but living one. Here only. A living matter, as told on Crack! - Capital. Crackland means an idea of the world: more, a galaxy. A still widening universe molding new planets one by one.
Here's the markup: self-managed, no back-ons, party is open.
You're in, you share, you play: that's the license no pence can pay.
No scheduled slots, the room gels by living it.
Homegrown festival are arising under the same lingo: COMBAT COMICS in Livorno (4th ed.), INCHIOSTRI RIBELLI in Florence (3rd ed.), RATATÀ in Macerata (3rd ed.), CA.CO. Fest in Bari (3rd ed.), BORDA! Fest in Lucca (the 3rd ed. on the go), PICS Pics Pescara Intergalactic Comics Show (uneven since 2013) and AFA in Milan (newborn this year). Clumped with international ones: F.OFF in Angouleme (FRA, 5th ed.), ALTCOM in Malmö (SWE, biennial, 4th ed.), TENDERETE in Valencia (ESP, twice a year, 12th ed.), GUTTER Party in Barcelona (ESP, 4th ed.), VENDETTA in Marseille (3rd ed.), PRINTNOIZE Festival Berlin (GER), OHOHO in Zagreb (CRO), and the fresh experiences of NOVO DOBA in Belgrade (SRB), ŠKVER Art Project in Mali Loöinj (CRO) and many more, as a bundle of comics, micro-printings and visual avant-garde that, due to the squatted moonlighted unattached Forte Prenestino, matured and shared planning.
On the closing day of Crackland, the first Close Interstellar Encounter of Independent Festivals will happen. The collision will start a European commons network on the same premises that nourished Crack! A launch off-center from here. Down in Crackland.